The Future of Tourism - Distributed Hotels
In the first of a new series examining the 'future of tourism', we explore the concept of a "distributed" hotel and discover how it has brought new life to a small Ticino village...
Google "distributed hotels" and you are likely to receive a huge volume of results discussing hotel distribution channels - the different points of sale through which hotels can generate revenue.
But what if it wasn't the sales channels that were dispersed over different locations, rather the hotel itself?
This is the concept behind Corippo Albergo Diffuso, a distributed hotel located in the small Ticino village of Corippo to the south of Switzerland.
Instead of being based in a single building or site, the hotel's accommodation is spread across the entire village, with guests staying in different houses based on their room booking.
As well as acting as a stimulus to the local economy, the idea behind Albergo Diffuso is to help preserve the village's rich heritage and the harmony of the local architecture and landscape.
The hotel and its restaurant are run by husband and wife team Jeremy and Désirée, with the project funded by a private foundation with public scope that was established to encourage restoration over new builds.
Of course, the logistical and operational challenges of such an undertaking are clearly immense. So, in order to better understand the motivations behind the concept and the challenges of establishing it, we caught up with manager Jeremy to hear his family's story...
Hi Jeremy and thanks for speaking with us! To start with, could you give us a quick overview of yours and Désirée's backgrounds which I believe both include hospitality links?
Yes, my wife originally studied law and I had studied economics and worked in trading for a few years in my 20s. However, my ambition had always been to be a chef and I started working as one when I was 28. My wife also wanted to do something else other than be a lawyer so moved on to study hotel management. I remember when we first met, we both thought it was cool that we had done other things before landing on hospitality. After becoming a chef, I worked in various restaurants in Switzerland before we got married and later spent six months working in a hotel in Peru.
We first came to Ticino for a completely different project more related to food production, but the idea was always to have a restaurant or a hotel-restaurant one day. This is when we came across the Albergo Diffuso project. This is run by a foundation and they had already started the renovation of some of the houses in Corripo and were looking for people to manage the hospitality-side of the project. We applied and, luckily with our backgrounds and competencies, we fit the profile and they offered us the contract.
You are now both settled in Corripo - what was the village like when you first arrived there? Was there much tourism?
Corripo is a really small village - around sixty houses in a small valley. When we first arrived, some of the privately owned homes were being used for Airbnb but there wasn't much tourism in the sense of people staying overnight - it was much more people coming for one day for a hike or a picnic and not really spending any money.
While there were a few pizzerias in the area, there was not much diversity of offering and almost no restaurants open all year round. So, the first key challenge was to try and increase the quality of the offering to encourage more people to stay in the valley. The foundation already owned around ten of the houses in the village and, with the renovations that have been made to the properties, we now have a total of six houses offering ten rooms for guests to stay in.
What were the main challenges of setting up this type of hospitality experience?
Well, the first great challenge was that they started the work during Covid and were supposed to open the hotel in June 2021 but this had to be delayed. We received the hotel a year later and it was a bit complicated for us to build a team without any guarantee of when we would be open. So our initial challenge was to deal with the opening, especially as it was a new concept.
We were also a bit worried at the start that guests might not understand the concept or might complain that the rooms were a bit smaller than normal hotel rooms; however, this really wasn't a problem as most of the guests understood what we were trying to do and were really supportive.
Another challenge from the start, which we still face today, is to find activities to keep guests coming throughout the year. Of course, when we talk about responsible tourism, we have to consider the people working for us. If we are only advertising seasonal positions, it is a different type of profile and that is not what we are trying to do here - we want to build a team that can grow together. Of course, we know that this will take some years to establish and we knew the risk when we started out, but for sure this is now our biggest challenge.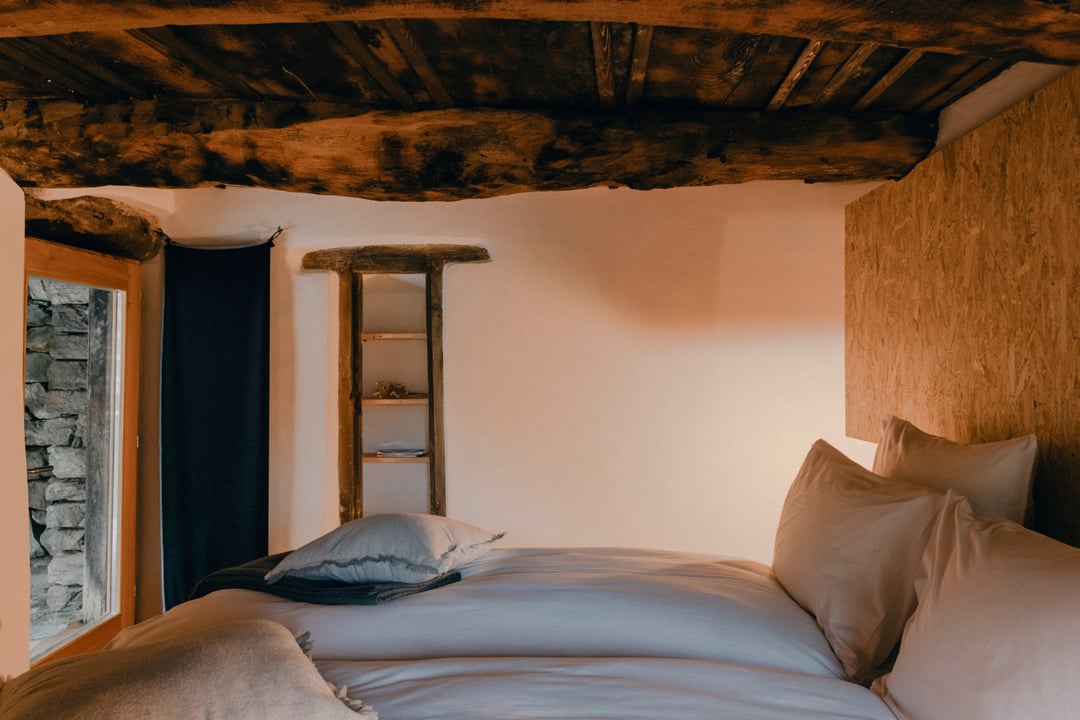 One of the rooms at Corripo Albergo Diffuso.
How did the villagers of Corripo react to this new hospitality concept on their doorstep?
I think, at first, there was a bit of confusion over what the foundation is and its purpose. The foundation is a private organisation (with some public scope and funding) with a dedicated purpose of preserving the architectural heritage of the region. When the project first started, some of the locals couldn't understand why so much money was being invested into a hotel and not into other public services - they saw the foundation more as a municipality type of organisation, which of course it isn't.
So, we were a bit afraid at the beginning what their reaction to us would be as we also had to live in the village. But actually everyone was very friendly. They understood we didn't really have anything to do with the foundation and were just here to do our jobs and, in the end, we were very well accepted into the community.
What impact has this project had on tourism in the village?

We have definitely seen an increase. Now, with the hotel, we always have around 20 guests in the village and more activity in the restaurant. There was a restaurant before but it was closed for four years so everyone is definitely happy to have a new one.
Another factor is that the project has been very well publicised on TV and in the newspapers so a lot of people have become aware of it and are curious to come to visit because of that. As the smallest village in Switzerland, we get quite a lot of attention and interest.
Sustainability seems important to your business – what steps do you take to ensure your hotel and restaurant are run sustainably?
So the concept of diffuso is at the heart of our sustainability - it is about renewing and refurbishing existing buildings and avoiding building new ones where possible. The village itself and the hotel are a great example of that philosophy in action and we are very proud of that.
As managers, we can also take different steps to promote sustainable practice. We encourage public transport, we don't have bottled water, we provide solid soap shampoo with no packaging and we work with local people for our supply chain. So it's kind of small steps but added together they make a difference.
The underlying idea is that we are bringing to life something that was already there. We just needed to bring some water and electricity to the houses and give them this new sense of purpose.
What do you enjoy most about your jobs?

The place is beautiful, it's maybe not the most important but I have to say the location. As a place to live, the space they have created is incredible. When people arrive, before they even get into their room, they are already away from the daily stress in a beautiful village and region.
Obviously, there is always potential for us to make mistakes in our service (although of course we try not to) but when you have such a nice place to offer, a large part of the job is already done for you.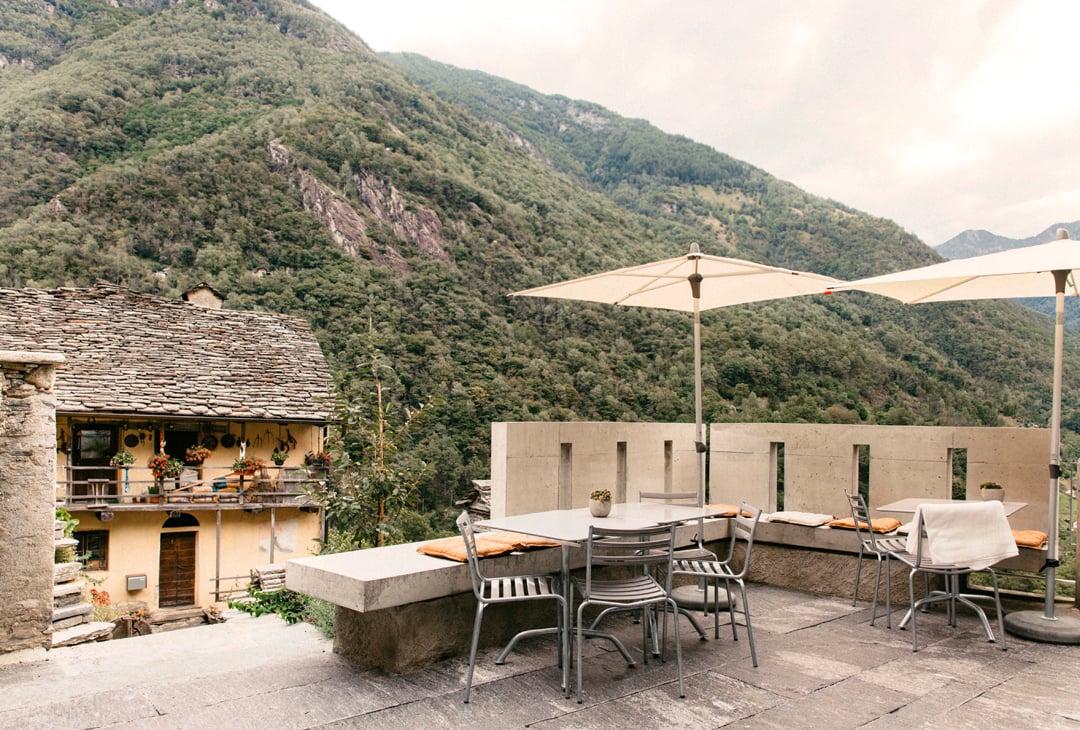 Guests (and hosts) enjoy the beauty of the natural surroundings.
What are the next steps for this project?
The original project was for a 12 room hotel with a spa, but at the moment it is 10 rooms and the spa is still pending. So the spa would be a great help for the winter. Now we are pushing with the owners to go ahead with the spa project so we can realise our full potential throughout the colder months too.
We also have three rooms for seminars and conferences - an offering for businesses which is not weather-related. Companies can come whenever and it doesn't make a difference if it is raining a bit. We did a few of these last winter and we are pushing for more this year.
Do you see this form of "distributed" hotel model becoming more popular in the future?
I think it's a really good model because there are many villages in, for example, Spain or France which could benefit from this kind of reconstruction. In some cases, it's a way not to let the village die. But of course finding investment can be a big challenge for this type of project - it can be more expensive to renovate in this way than to build new sometimes which seems a bit crazy.
I think the way for this to work - as in our case - is a public-private partnership and, of course, people appreciating and placing value into local culture, architecture and history. But I believe the potential is very good.
The Albergo Diffuso association is very active and not just a romantic idea, they are very business-orientated too. Currently, they are organising seminars on business management and are active in eight countries around the world - Italy, Japan, Spain, France and others. The feedback from people so far is very positive - they are amazed at this idea to preserve villages and very much appreciate the guidance that the association offers.


Jeremy's final point about this form of renovation being a way to save smaller villages is particularly interesting.
As employment opportunities, housing development, and both private and public investment become more and more focused in urban areas, it is no exaggeration to say that many rural communities are facing an existential threat.
According to the European Union's recent Eurostat report, rural regions accounted for just 15.3% of the member countries' GDP in 2019 compared to 51% concentrated in urban areas.
These figures come from the period before the Covid-pandemic, during which time smaller rural businesses (particularly hospitality operations such as hotels and restaurants) were disproportionately affected by the economic challenges posed by the various lockdowns.
A village, family-run hotel, restaurant or café is unlikely to have the cash-reserves that an international, multi-property chain can call upon, and is therefore much more vulnerable to economic downturns.
What the Diffuso model offers, is a collaborative approach that brings in both private and public investment in order to ensure both cultural heritage and economic self-sustainability.
All too often when we think of the tourism industry, our focus is drawn to the bigger global players and their efforts to diversify and adapt to a changing global landscape.
However, we must not forget the building blocks of our rural areas - local businesses that offer employment, services and a sense of continuity and community.
The 3R initiative - reduce, reuse and recycle - is already well-established in the consumer goods market and it is interesting to see the project in Corripo applying a similar approach to tourism development.
From both an environmental and cultural standpoint, it clearly seems much better to renovate and repurpose the local resources we have rather than constantly building new ones.
As Jeremy also points out, the real challenge here is to find the investment to support such projects and, using his word, this cannot just rely on "romantic" notions of history and tradition.
The business case must also be made and, in the Corripo Albergo Diffuso project, we have a fascinating test subject which could act as real inspiration for similar undertakings around the world.
For the sake of local community, heritage and sustainability, we can only wish them the very best...
Discover how IMI is helping to shape tomorrow's tourism leaders on our website.
Contact Us