Always one of the most memorable events of the year, we had a fantastic time celebrating the achievements of our Class of 23 at this September's Graduation Ceremony...
There is nothing we look forward to more here at IMI, than our annual Graduation Ceremony each September.
For all sorts of reasons, this is one of the happiest and most joyful events of the school year: friends being reunited, success being celebrated and the recognition of the start of a new chapter for our graduating cohort.
As ever, our 2023 ceremony was held at Grand Casino in Luzern, a spectacular lake-side venue which is always popular with our graduates and their families for the fantastic photo opportunities it offers.
We were joined by returning students from across the globe who came together to receive either their BA (Hons), MBA, MSc or Postgraduate Diploma awards in front of their proud guests.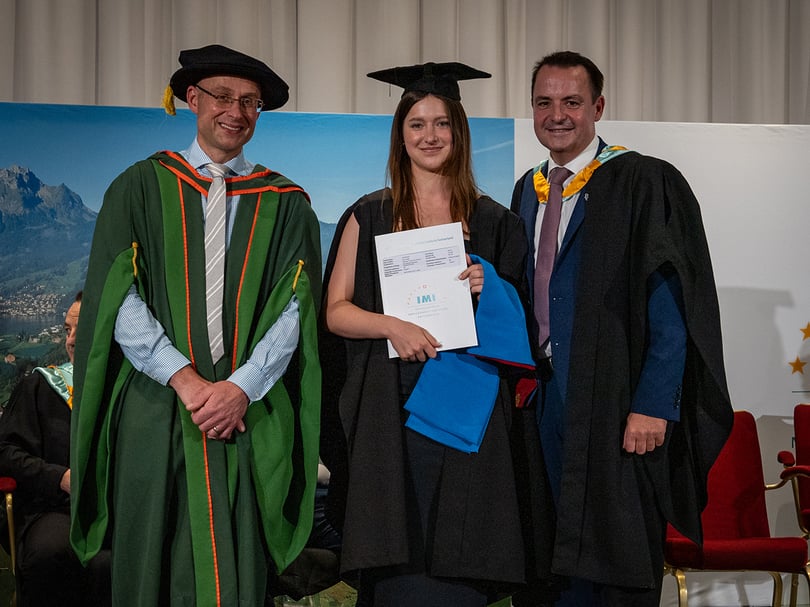 It was a pleasure to welcome Manchester Metropolitan University's Professor Dominic Medway to the ceremony.

For the presentation of awards, we were delighted to welcome Professor Dominic Medway from our UK-validating partner Manchester Metropolitan University.
As well as offering an inspiring speech at the start of the ceremony, Professor Medway helped to award the BA (Hons) and Master of Science degrees that IMI offers in conjunction with Manchester Met.
Once all the academic awards had been presented, we moved on to our Special Certificates of Merit, which recognise the highest overall academic marks over the school year, as well as our Special Awards, commemorating students for their professional attitude and personal achievement.
The final presentations of the event were for our two Prestige Awards. Named after two of IMI's co-founders - Mr. Tom Maher and Mr. Rudolf Fischer - these recognise outstanding academic achievement and exceptional contribution to service in the school community. (You can see a full list of award winners below.)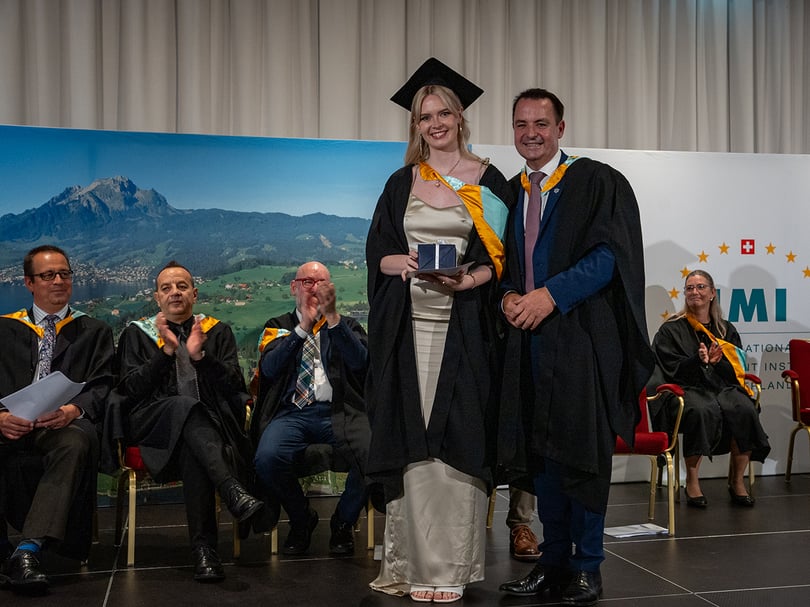 Our Prestige Award winners both received a specially engraved Swiss watch.
On completion of the formal aspects of the ceremony, we invited Australian post-graduate student Jamie Grove to deliver the Student Response Speech.
Jamie spoke warmly about her many fond experiences at our school, and explained that IMI was more than just an academic experience, but rather a place where life-long friendships are born and memories made.
Outside the venue, there was plenty of time for photographs (including the customary graduation cap throw) and lots of emotional reunions between former classmates.
Commenting on the ceremony, Hungarian graduate Sara Szoke said: "These past few days have been very emotional and nostalgic for me, filled with happiness, laughter and a lot of joy."
"Being able to see the friends I made during my time spent at IMI again, and having my family alongside me while celebrating our achievements, has made this day even more memorable," she added.
Of course, the event would not be complete without a chance to toast our students' success at the post-ceremony apéro.
This year, we enjoyed the drinks reception in the venue's stunning Casineum room, where graduates, their families and friends and the IMI faculty could celebrate our newest alumni and share the many happy memories of their study time with us.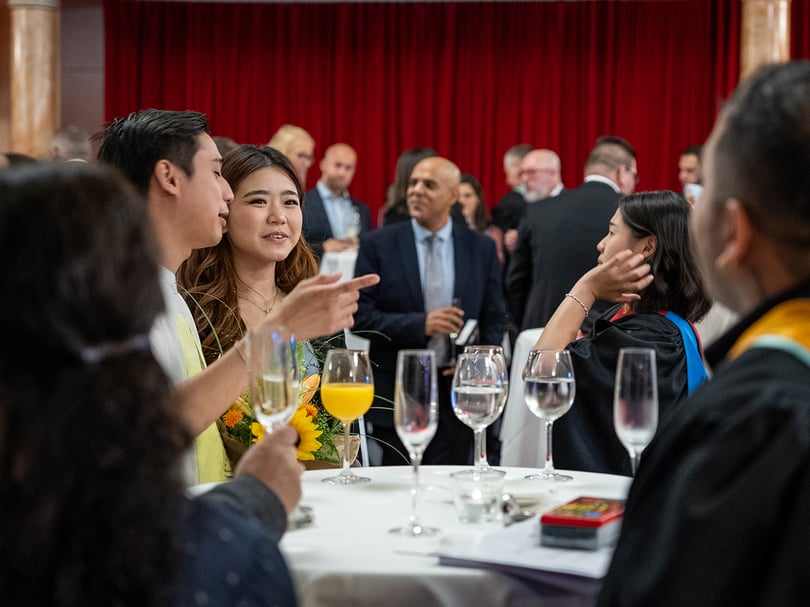 After the ceremony, students and their friends and family enjoyed an apéro reception at the Palace Casino.


This was another highly successful graduation ceremony reflecting the many hours of hard work put in by the IMI team to ensure everything ran smoothly on the day.
Academic Dean Mr. Gareth Currie reflected on another memorable event and recognised it's significance to our students.
"It is always such a pleasure to recognise and celebrate the achievements of our fantastic students, now alumni", he said.
He added: "We wish them every success in all of their future endeavours."
We would like to offer huge congratulations to all our class of 2023 and wish them every joy, success and happiness in their next exciting steps!
Full Awards List
Professional Attitude: Avani Saraf
Personal Achievement: Joseph Loogman Tjahja
Best Overall Degree Student: Sara Szoke
Best Overall Masters Student: Vedant Newatia
Best Dissertation by a Degree Student: Sara Szoke
Best Dissertation by a Masters Student: Jessica Anzamar Sibarani
The Tom Maher Prize Award: Elena Isakova
The Rudolf Fischer Prize Award: Jamie Jennifer Grove
You too could take part in an IMI Graduation Ceremony one day! Apply here to start your academic journey with us...
Contact Us